Unsere letzte Tour in der Pionier Saison startet. Für eine weitere Woche testen wir den Powder in Bakhmaro und freuen uns auf gemütliche Abende, das gute Essen von Bacho, Eto und Nika und sichere Fahrten mit Aslan...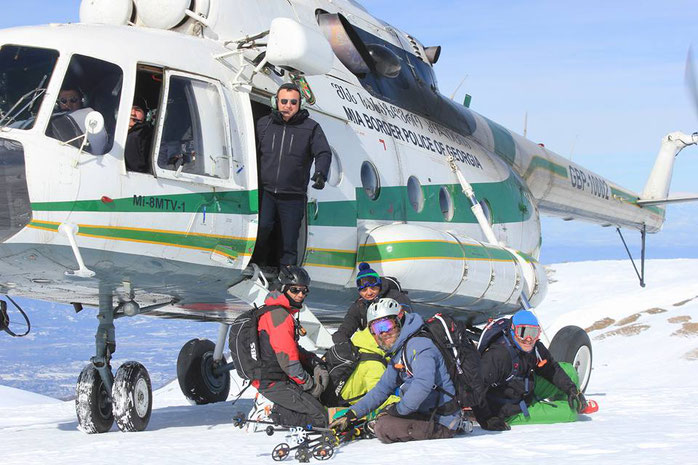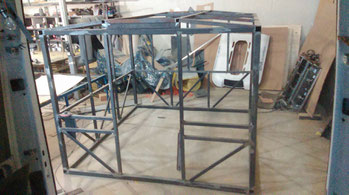 The first pics of our cabin. A company in Tbilisi is building the cabin for us. Usually they reconstruct minibusses.
The cabin will have 12 seats, a independent heating system and huge windows.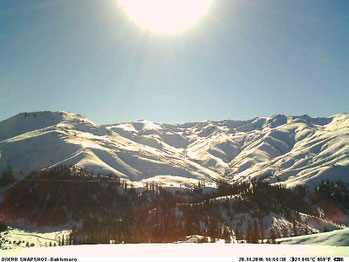 After the telecom provider switched of the antenna in Bakhmaro as every year, our meteo station stoped sending data.
The local municipality arranged now that the antenna is working all season and the provider installed solar panels to keep it working without power in the winter. Since Sunday it is sending data again.
12'000 liter Diesel for the entire winter. Already bought and stored in Bakhmaro - would be difficult to drive with the Pistenbully to a gas station ...
On friday we have been loading the Pistenbully. Now, it is on its way to the Caucasus and in 2 weeks we will see it again in Georgia. Good luck on you road trip ...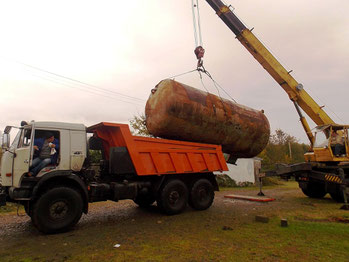 Today was the delivery of our Diesel-tank. Because Bakhmaro cannot be reached by road in the winter we need to purchase the Diesel alrweady now and store it in a tank on the mountain.
The tank would be good enough for 2 Snowcats. But that is the plan for next year ...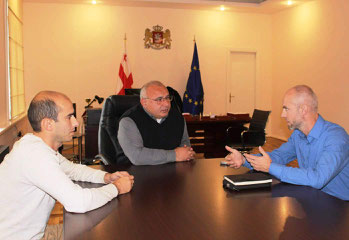 In a meeting with the Governor of Guria we could explained our situation, pointed out some milestones and discussed further proceedings.
It was the last day of our October Tour to Georgia. Next time we will be in Georgia, when the snowcat will arrive.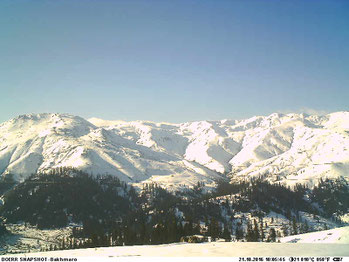 We have received the first pictures of our weather camera. Thanks to Irakli who found out how to do the settings of the cellular module right.
Now we get everything hours a picture from Bakhmaro to monitor the weather conditions. On snowy days it can be that the lense is coverd by snow but the sun will melt the snow or ice-crust.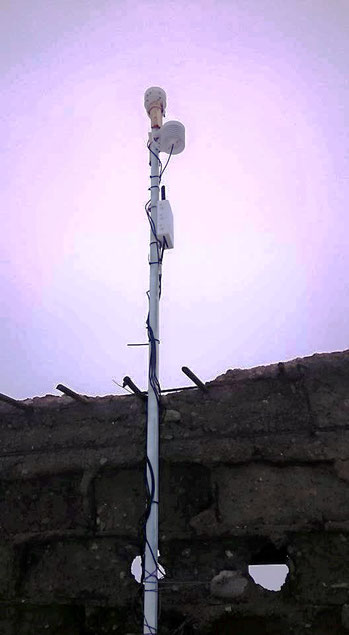 Together with Irakli I could install the meteo-station on 2'100 meters. We used an old building to fix the pole.
It will take two weeks before we will receive the first data. We also left the weather cam on a tower to try its funktionality. Later we will remove it to a place with less wind to monitor the snowfall better.
There are already 25 cm of snow on 2'100 meters. The road is still easy to drive but soon it will be impossible to reach Bakhmaro without a snowcat or snowmobile.
Our next Georgia Site-Visit is booked. On Monday I fly to Tbilisi to officially found the local company. Then we plan to go up to Bakhmaro to reinstall the meteo station, prepare the cottages and store first inventory for the winterseason before the first snow comes.
Our first week is online: 06/01 - 13/01/2017. This is the pioneer-week of the pioneer season. It will be an adventure! We have a maximum of 12 places for enthusiasts and adventurers, a local Guide and plenty of unskiied terrain...
First snowfall in Bakhmaro ...
This week was quite eventful. Three groups confirmed a week each. That means that the execution of our test-season is ensured. Also a media group confirmed their participation.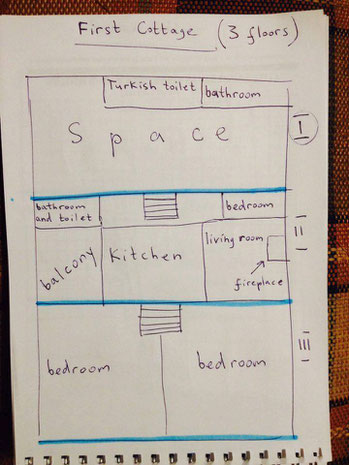 We creceived the floor map of the two cottages. In July we could just see one of both cottages from inside.
The owner is changing the toilet for us, so we have a European style toilet. In the other cottage are two more toilets. It is not a lot but will do for one season.
We will have six bedrooms for 8-12 freeriders, a dining room in the 1st cottage and a livingroom in the second one.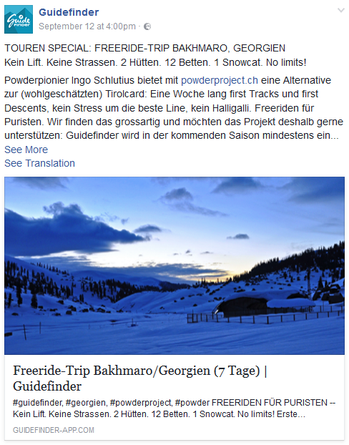 The first of our partners has published our offer. Now we are waiting for replys..
A big thank you to Guidefinder for your trust in our product!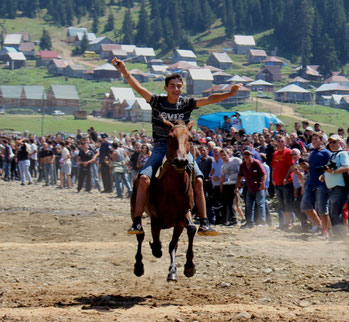 Transfiguration holiday.
The traditional horse race took place in Bakhmaro this weekend. Every summer the festival with several thousands of visitors takes  place in August. It is the highlight of the summer season. Horseriders from all over Georgia are joining the race.
We decided to postpone the crowdfunding. So far we lack enough coverage. On Facebook we have 283 followers and posts reach up to 700 views. At the same time we hesitate to place commercial advertising. However, the interest of commercial tour-operators, commercial platforms and freeride magazines is great.
In September we will have to decide whether to proceed or not.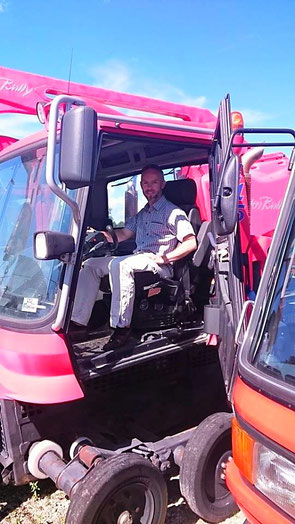 Have you ever driven a SnowCat?

PB 300 Polar: 430 HP (PS), 12l cylinder capacity, 7.5 tonnes. This will be great fun in December ...

Checking different offers in the moment. I like this one. Feels good to sit on 430 HP. You like to test? You can join us ...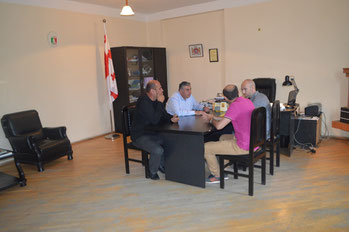 Meeting with the Head of the Minicipality of Chokhatauri.
After the meeting we drove up to Bakhmaro for a site visit.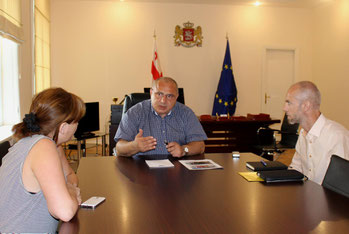 Meeting with Gia Salukvadze, State Representative-Governor in Ozurgeti. I could present our project to the Governor, describe what we want to do and explain what we need.
The outcome of the meeting is that the Governor is supporting us and our project. He welcomes the private initiative to stimulate tourism in Guria.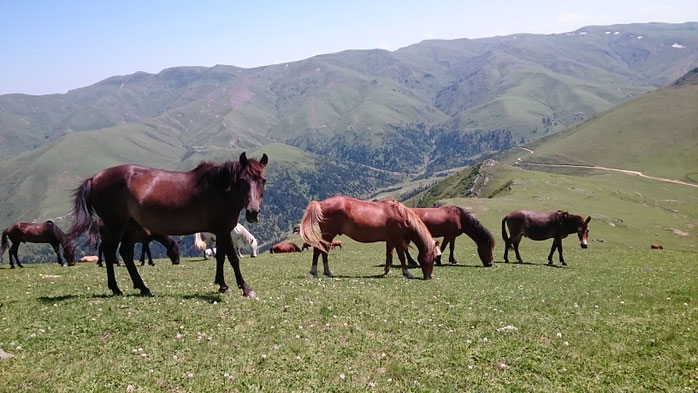 On the first day of my summer visit I had some spare time to hike around Bakhmaro. I have taken this picture on my way up to the top of Mt. Gadrekili, which was described to me as the best skiing mountain in the area. And I think they are right. It is possible to ski down to all directions and it looks pretty good. Looking forward to ski it next winter ...
In the backgrund is the range with Mt. Zoti: all possible CatSki area.
We have started our Campaign to raise enough funds for the test season. Lets get some coverage ...
Our talks with freeride tour operators are going well. Georgia and the Lower Caucasus are a topic. We are optimistic to get 2 or 3 tour operators for next winter.
For the last days we worked on our web-pages to update all informations. Now, all German pages are up to date. However, some adjustments are still necessary. We want to review all English pages untill Monday.
At the same time we worked on the schedule for our site visit in July. If everything works out we can start some fundraising in August...
The flights are booked. July 15 untill July 24 I will be in Georgia to discuss details about the upcoming season. Aim is to find an agreement about using the hotel in Bakkhmaro for a test season and kick off season planing.
Afterwards we will decide whether to start a seedfunding this summer.
I am already looking foreward to be back in Georgia ...
We have good news from Georgia. The govenor of Guria province has approved our suggestion to operate a SnowCat in Bakhmaro in the 2016/17 season. Now we can start to plan the operation and the seedfunding. In July we will travel to Georgia to discuss the plan with local authorities and hopefully start the initial seedfunding in August.
It is a tight schedule ...
We are still waiting for news from Georgia.
We have submitted a brief concept to Georgian Authorities how to develop Bakhmaro as a beginners ski area. At the same time we could start with a snowcat operation. Without any development in Bakhmaro the road would not be cleared in the winter. That is why it is important for us that some kind of development takes place before we start our project.
There will be a meeting of governmental bodies in May to decide about the future of Bakhmaro.

After another snowfall on Sunday, Goderdzi Pass blazes in perfect winter conditions. A beautiful day to finish the explorations trips for this winter.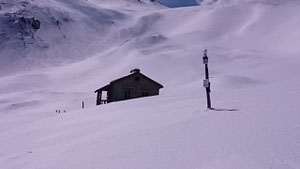 Four hours of hiking in fresh powder (up to 20cm falling the night before). To get started early I spend the night in the car in the Sanalia Bowl.
I must admit that I was a bit reluctant to start before dawn because of bears and wolfs. No problem in a group, but this time I was just by myself and I was not up to run into a hungry bear right after its hibernation.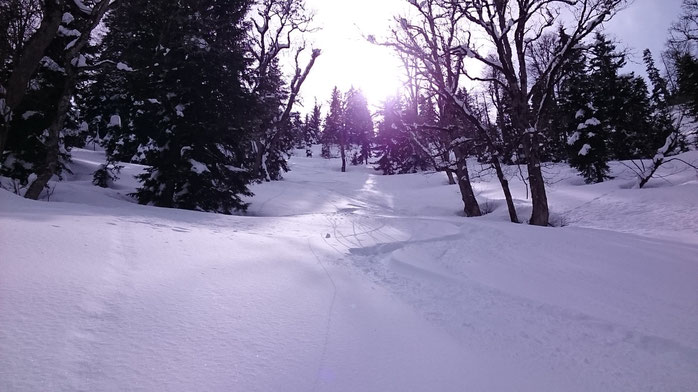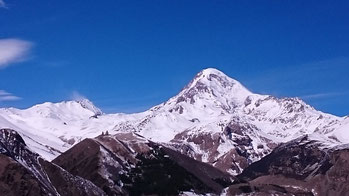 The last trip for this winter has started. The aim is to follow-up on some talks we had on the trips before and to retrive some material including the weather station, we have build up in the Sanalia Bowl in November.
The trip starts with some perfect days in the Gudauri area.
A short summery of the highlights of our 2nd exploration tour is now published. We are already planning the next trip ...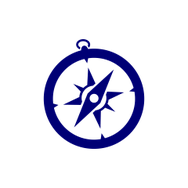 The spectacular mountains including Mt. Ushba (4'710m) and Mt. Tetnuldi (4'858m) are a highlight of Mestia.
So far just a few ski touring enthusiast have discoverd Svanetia as skiing destination. Most slopes have been untouched and we experienced a real remote mountain atmospere.
This picture, taken by Jochen, became quite popular in Social Media and was shared a lot.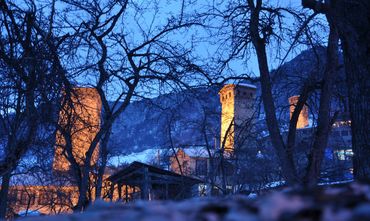 Mestia is a top travel destination in the summer. With the new Tetnuldi Ski Area it will become a winter destination as well.
The towers of Mestia are famous and a very nice photo object. We stayed four nights in Mestia and enjoyed the relaxed atmosphere, the empty slopes and  the good Svanetian food. We also climbed one of the towers and could not imagine how up to 80 people could climb up there to run for shelter in times of conflict.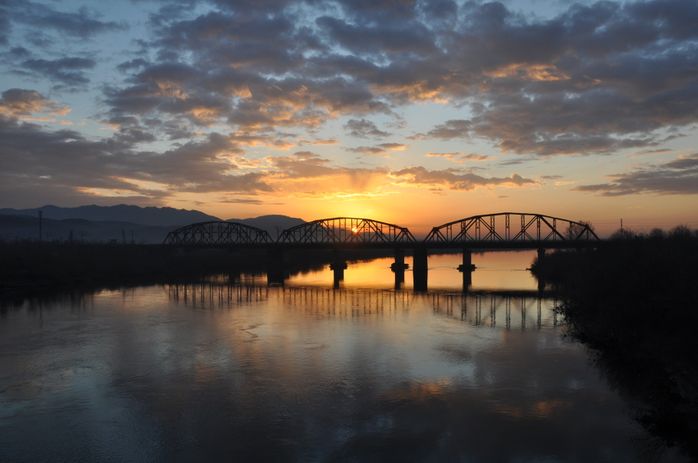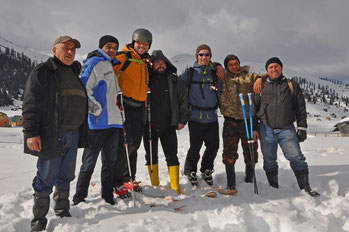 After saying good by to our fellowship, Jochen and myself hiked up a peak southeast of the little village. The snow pack was great but it was too warm as everywhere in Europe.
Downhill we skied the northface into a small valley. At around 2'000 meters we came into an open beech forest. We called it Little Japan as it reminded us of the great tree runs on Honshu.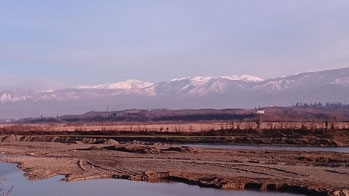 We have started our 2nd Snow Exploration. In the next 10 days we want to see Bakhmaro,  Mestia and the new Tetnuldi Ski Area. 
If weather allows we want to see Bakhmaro on Sunday and hike up to Sakornia Peak on Monday. It should be a great view, in particular at sunset.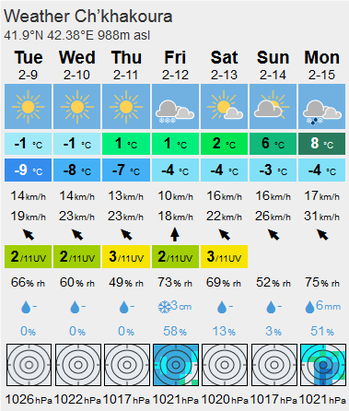 It is time again to pack up the ski bags. Tomorrow we start again to explore some more places in the Georgian mountains.
The weather forecast is slightly better than in January. We will see how much we can achieve this time.
At the beginning of the trip some meetings with authority representatives are scheduled to find out about possible locations, the access and investment opportunities. Then we will organise transportation into these remote places and start our trip.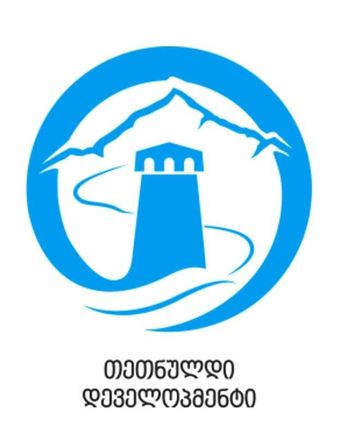 The new ski area Tetnuldi in Svanetia opened today.
At the slopes of the Tetnuldi (4'858m) the first ski lift and 4 runs are open from now on. So far there isno accommodation close to the lifts. But there are a variety of guest houses and hotels in Mestia around 18 km away.
We plan to visit Mestia and explore the freeride potential of the mountain in the middle of February.
The flights for our second Snow Exploration are booked and the agenda is set:
1. Visiting Tetnuldi if it is open. We are looking forward to see Mestia with its towers and the great Caucasus. We are also curious how the new developed ski area of Tetnuldi looks like. On one day we want to see Hatsvali as well.
2. We still think that the Lower Caucasus offers great off-piste skiing because of the high amounts of snowfall. That is why we want to visit Bakhmaro.
We will see what the weather will allow us to do this time. As we learned in our first winter trip, the weather dictates the agenda ...
We start from Zürich & Frankfurt 10/02 and will stay in Georgia untill the 21/02/2016.
There are two major outcomes of our first Snow Exploration:
1. Everything in Georgia need much more time than expected (in particular road conditions are quite difficult).
2. The Sanalia Bowl is effected regularly by strong winds and the access is a significant problem.
This means that we will explore alternative locations on our next exploration tour in February.
Here we arranged some pictures of the trip: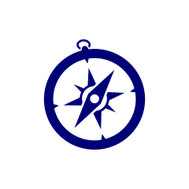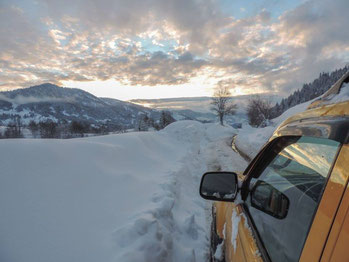 The first exploration trip this winter is over. Thanks Su, Mel, Toby and Alex for your participation.
The trip was a bit ill-fated as we had to face flight delays and cancelations, lost luggage and bad weather. However it was a great trip with great friends, more adventure than expected but finally some untracked powder skiing in the Caucasus.
We will be back in February.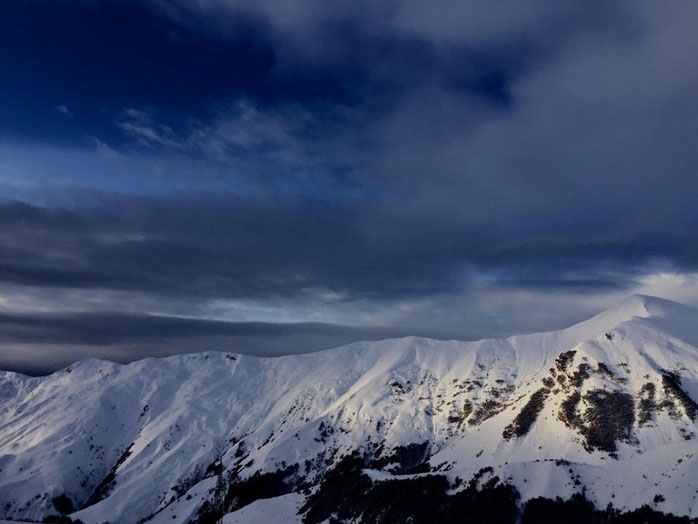 We made it finally up to the hut in the Sanalia Bowl.The slopes have been highly effected by strong winds. We also saw some avalanches, one of them quite big.
At the hut, we exchanged a SIM card and batteries of the weather station, then downloaded the pictures of the automatic cam.
Long after nightfall we have been back, awaited by our friends, a bonfire and hot tea.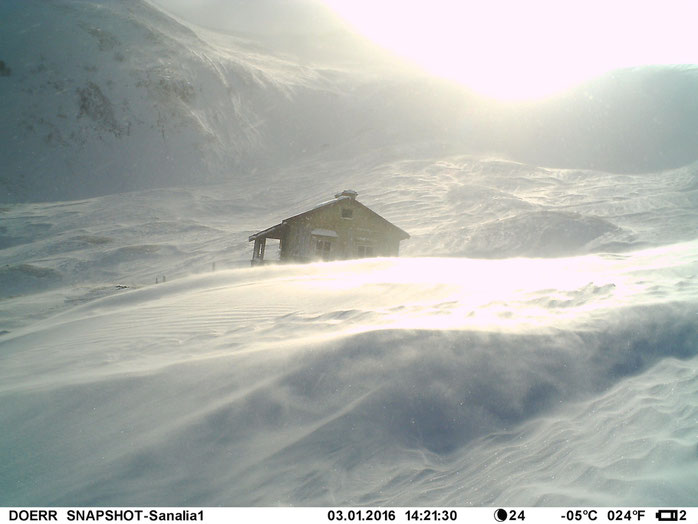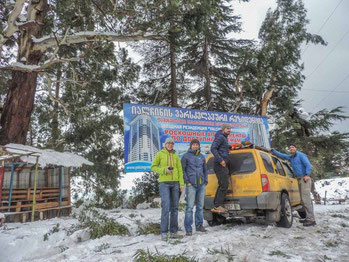 Back in Georgia for our 1st winter exploration tour. The start was bit ill-fated. A flight cancelation and lost luggage made the beginning a bit complicated.
However, it is great to explore the mountains with good friend. First stop Batumi and then up to Goderdzi Pass.
As soon as there is the weather allowd we will hike up into the Sanalia Bowl to check the weather station and test the slopes.
While it is snowing again in Ajara, I did a bike-tour in Switzerland - at the 20th of December! Even on 1'200 meters there was almost no snow. It is really time to travel to Ajara to enjoy all the snow they already got. Unfortunately the new ski-area Tetnuldi did not open as planned. From the development team I learned that they postponed the opening until end of January.
However, we will travel to Georgia beginning of January. 1st stop will be Goderdzi Pass and 2nd stop will be the Sanalia Bowl. After that we will decide where to go for the second part of the trip.